Kristiaan and the Eco-Haus team assisted us with our new decking and restoration project. Kristiaan was extremely knowledgeable and passionate about what he does. He was able to provide us with a lot of advice on which sustainable and eco-friendly products would be best to use, you can tell he obviously does a lot of research in this field. Throughout the project we could always approach him for further advice or clarifications and he was more than happy to spend the time to explain details at every step of the project.
We are very happy with the outcome and the team's eye for detail shows in the superior craftsmanship of the completed work.
I will continue to use Eco-Haus for my future building projects and would not hesitate to recommend Kristiaan as your builder.
We recently contracted Kristiaan Steinhaus of Eco-Haus Australia as our builder to convert an existing storage area above a triple carport into a fully independent legal secondary dwelling. We required the secondary dwelling to include a new kitchen and bathroom.  We also wanted the dwelling to have a timber balcony with a roof extension. In addition, a whole new Advanced Enviro Septic System was required to comply with Noosa Shire Council regulations.   We also engaged Kristiaan to build a carport onto the existing main house.  This involved extending the driveway with concrete and constructing retaining walls. All the building works were approved by the Noosa Shire Council.
All work was completed well within the contract date and all work was completed within the contract price. We would also like to make special mention that the quote we received from Kristiaan was very concise and clearly set out, unlike the quotes we received from other builders.
Throughout the process of the works, we found Kristiaan to be an excellent carpenter who was honest, friendly and respectful.  Additionally, he was very obliging and overcame any problems that arose with good communication skills and a positive attitude. We are happy to recommend Kristiaan to others who need any building work carried out.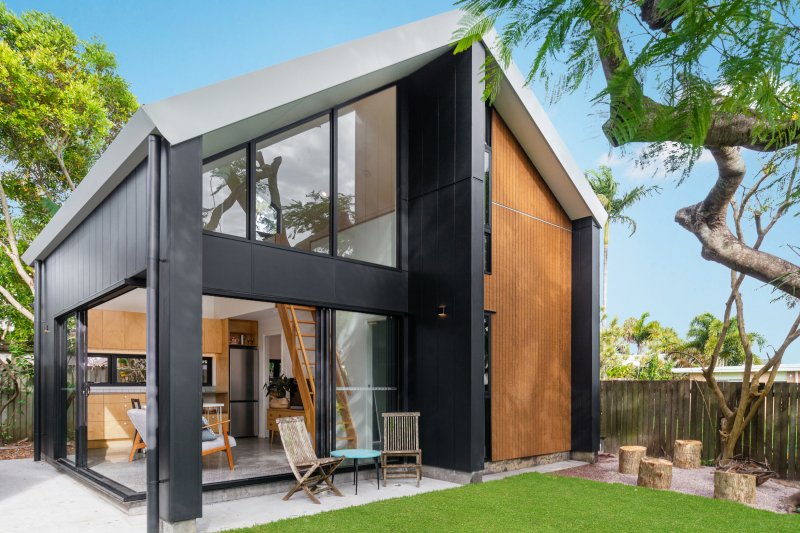 Eco-Haus was recommended to us by our building designer who thought we would be a good fit for our secondary dwelling project. He was spot on! Kristiaan's quote was detailed, meticulous and transparent. He explained the benefits of the 'eco' techniques, materials and finishes he prefers to use and allowed us to weigh up the generally minor price differences vs the sustainable outcomes. He got started exactly when he said he would, and even with some serious weather got the job done in under four months. Communication was great, he and his team were respectful and considerate of our needs as we remained on-site throughout. The finished product is better than we ever imagined!
I recently engaged the services of Kristiaan from Eco-Haus Australia. Kristiaan was very easy to deal with and extremely knowledgeable in his field. He was always on time and reliable and did a fantastic job. Very detail oriented in his work and he went above and beyond what was expected. I highly recommend Eco-Haus Australia.
I have no hesitation in recommending Kristiaan as your builder, he is reliable, a true professional, delivers on time, within budget and has innovative eco-friendly ideas. I found him a pleasure to deal with.
Like many people increasingly aware of environmental issues I was keen to have built a sustainable ecologically sound garden studio (granny flat). Kristiaan from Eco-Haus Australia was recommended to build my garden studio.
Eco-Haus's website states:
WE SPECIALISE IN CREATING SUSTAINABLE AND ENVIRONMENTALLY CONSCIOUS HOMES
This is exactly what Kristiaan delivered: carefully sourced sustainable materials and outstanding built quality. Eco-Haus is committed to ecologically sustainable practices and Kristiaan and his family are personally committed to ecologically sound lifestyle choices. When it comes to those principles outlined on the website Kristiaan is "the real deal" and if this is what you require for your building project you can be certain Exo-Haus is passionately committed to sustainability and ecologically sound practices.
The standard of construction is outstanding and I could not be happier with the finished product. Kristiaan took great care to carefully source materials and to remain within budget. Care to remain within budget certainly doesn't always occur within the building industry.
A real feature of Kristiaan's work practice is outstanding communication. Kristiaan always ensured I was informed about what was  happening and when. He consulted with me at every step of the project.
A friend visiting inspected the studio and said to me, "That's not just a building Rob, it's a work of art." This same friend has taken Kristiaan's details and plans to engage Eco-Haus for her extensions.
I have no hesitation in recommending Eco-Haus Australia. Kristiaan is a most dedicated tradesman and will complete your building project to an excellent standard of craftsmanship while remaining true to the principles of ecological sustainability.